Circle & Sharing Time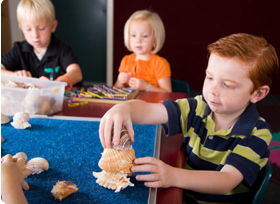 The children greet each other and tell the group something about their day. Orientation about the child's environment is discussed using props like the weather bear and giant calendar. Explanation of theme and corresponding materials are presented. Children have an opportunity to present a "show-and-tell" item to the group. Each child holds the floor for 2-3 minutes as child-child interactions and conversational turn taking are facilitated.
Motor Activity Time
Large motor activities facilitate full body activity including outside play, exercises, games with movement, etc. Children will be interacting with each other, based on direction from adults (therapists); large group or small group activities are planned to encourage child-child/child-adult interactions.
Play Centers
Different activities at each play center revolve around a theme. Play centers include activities focused on art, dramatic play, books, and sensory integration. Children have an opportunity to choose their desired play center for the day. At this time therapists have opportunities to provide one-on-one speech and language facilitation for the children.